12 Projects that Transform Lives and Nations
Sweden's Secret A Multicultural Congregation May Be the Answer to Sweden's Biggest Challenge
Doing life the "Swedish Way" became a phrase I learned as a little girl. My grandmother on my mom's side worked hard to keep our Swedish heritage alive, even taking me on a trip to visit this Nordic nation as a little girl.
Returning there recently, I learned that the "Swedish Way" is still alive, but with 21st century challenges: primarily, how to effectively assimilate over one million fairly recent refugees whose only prior exposure to the culture came from magazines or movies.
Learning how the Foursquare Church in Sweden is actively and effectively reaching this immigrant community using gospel tracts caught FMP's attention. We believe they could be a model for other churches across the globe wanting to reach out to a growing global migration, but not knowing how. After all, culture and, of course, language poses a formidable barrier to relationship.
Enter Pastors Mike and Brona Van Weiden, both immigrants themselves. Brona is Irish and Mike is half Indonesian and half Dutch. Their method of doing street evangelism was born out of necessity. "People don't generally come into churches in Sweden; you have to go to them," said one of the evangelists.
For some 20 years, the Van Weidens have combined gospel tracts with hot coffee during street ministry – a powerful incentive to stop and chat, especially when temperatures fall. Europeans in general are much more apt to walk on their city streets at night – immigrants even more, appreciating any smiling face and kind hospitality.
The fruit of their street witnessing is evident on Sunday mornings with a growing congregation resembling the United Nations – first generation immigrants from Ethiopia, Uganda, Afghanistan, Iraq, India, China, Ghana, Lebanon, and Serbia. Plus they share a building with a Chinese congregation, pastored by a missionary sent by Foursquare Malaysia.
Bringing the church 70 pounds of FMP tracts and books in multiple languages brought not only palpable excitement for future evangelism and discipleship, but also the promise to work with them to create custom materials. Their need for resources is real and FMP has become a new best friend. The Van Weidens' joy in receiving a pack of the This We Believe tract brought tears to my eyes. They are so proud to be a new Foursquare work and want to teach the people what it means.
Gospel resources are needed not only during street evangelism, but also for their other outreaches, such as a highly successful second hand store, food ministry, and café. All are places for people of many nationalities to congregate when they aren't meeting at church or in homes. Yet, everything they do to care is simply an expression of God's great love.
The challenge to successfully assimilate multiple cultures into the "Swedish Way" remains. However, it is the Church which offers the best, tangible way forward. Governments cannot offer caring relationships, but an open heart, hot coffee, and a good conversation over a gospel tract about the life-changing message of Jesus Christ can.
[envira-gallery id="10310″]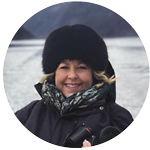 Heidi Faulkner Hunt is a practicing attorney (Family Law) and the granddaughter of FMP co-founders Karl and Leona Williams.
12 Projects that Transform Lives and Nations
"Reigniting a Passion for God's Word in Every Generation"