A Legacy of Generosity
As a young girl, living in poverty, Winnie Long never imagined she would become a successful businessperson, author, and philanthropist. Anyone who visits the FMP offices in Anaheim is greeted by the large Mel and Winnie Long Wall of Faithfulness – which lists, annually, FMP's faithful supporters. Winnie and her husband, Mel, are part of a generation of generosity. They represent believers interested in sowing into Kingdom­­­ work and modeling to a younger generation the joy of giving.
The late Paul Oddo, a WWII veteran and friend of FMP, believed greatly in the Word of God. He gave Bibles and other Scriptures to many. FMP's "The Paul Oddo Bible Fund" continues his legacy, focusing on purchasing Bibles around the world, like new Bibles for Sri Lanka and Tibet.
Charlotte Eardley lost her ability to speak and the use of half her body due to a severe stroke. Yet, after hearing about the Children's Gospel Box ministry, decided to make gospel bracelets. With the use of only one hand she has made well over 100,000 bracelets that have blessed children around the globe.
Roy Bruyneel lost the love of his life, Bonnie, in a tragic accident. But, he did not allow his grief to overcome him, focusing his efforts on building the Kingdom of God. His generosity helped FMP place multiple print systems, send hundreds of Gospel Boxes, and tens of thousands of printed materials.
Phil and Dana Liberatore love to give. Dozens of ministries every year are sustained by the Liberatore's generous hearts. Their support of the Mary Lou Canata Fund is essential to the ongoing ministry of the Children's Gospel Box.
Joann Johnson is a force of nature. Though living in a retirement center in Palm Desert, she continues to create music, videos, and remain active in her community. Joann's many years of faithful support to the Press is representative of so many others who do the same, sacrificially, each month.
There are hundreds of friends and churches that literally keep the presses running. Without them, the doors close and the lights turn off. All of us at FMP, and those we serve, are forever grateful to all of you!
Would you like to give a gift in memory or in honor of someone?
Please let us know and we will send a card announcing your gift to the friend or family you designate. Your memorial or tribute will be published in our quarterly newsletter.
The Foursquare Board of Directors, under the leadership of Dr. Glenn Burris Jr., dedicated this year the new auditorium in Los Angeles to the memory of FMP co-founders, Karl and Leona Williams.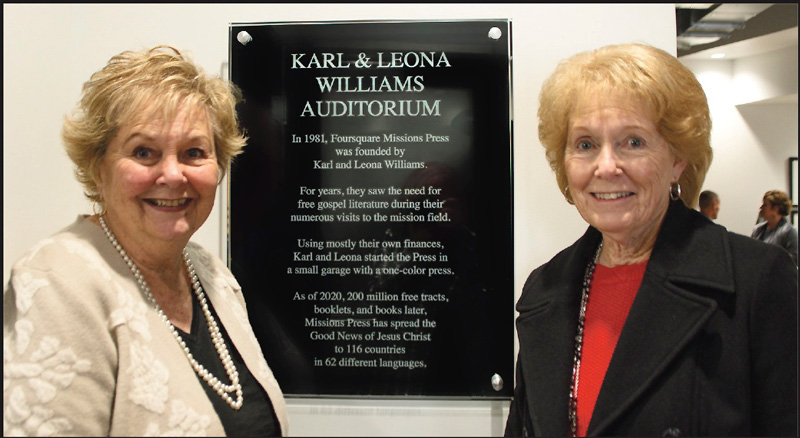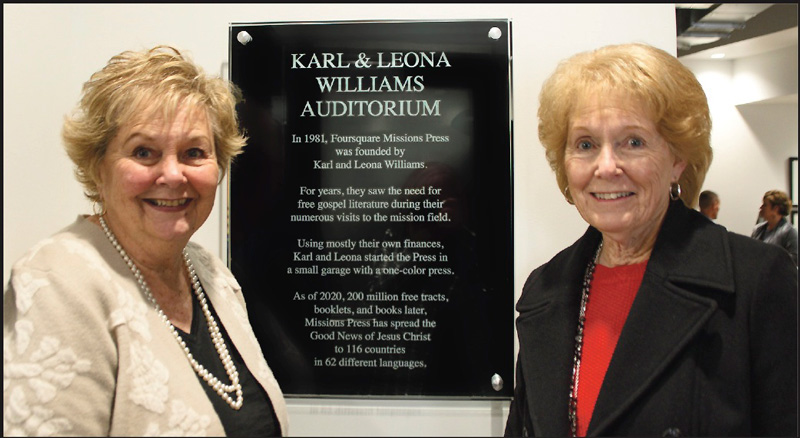 Have you remembered the Press in your will and estate plans? If you'd like to do so and have any questions, contact Bob Hunt at

[email protected]

or call (213) 989-4540.